By Frances Sands, Curator of Drawings and Books
Today marks the beginning of Black History Month 2021. Catherine Ross, Editor of Black History Month 2021 has launched 'a festival of celebration', and this short essay, 'In honour of Ignatius Sancho', is offered by Sir John Soane's Museum in commemoration of a remarkable figure in British history. The content of this essay addresses slavery, racism and other forms of racial prejudice.
About six yesterday morning died suddenly, Mr. Ignatius Sancho, grocer, and tea-dealer, of Charles-street, Westminster, a man whose generosity and benevolence were far beyond his humble station. He was honoured with the friendship of the late Rev. Mr. Sterne, and several of the literati of these times.
The Gazetteer, and New Daily Advertiser, 15 December 1780
These few lines, dedicated to the extraordinary Ignatius Sancho (c.1729-80), comprise the first obituary ever dedicated to a Black British person in the British press. Although reasonably little-known today, Sancho was a pioneering figure in British history. His story may be but one of many among the vast richness of Black British history, but his life was particularly inspiring, worthy of celebration, and deeply impactful on our shared heritage and culture. He has been admired since his lifetime by those who remember him – I have admired him for some time, and indeed, have written about him before.
Sir John Soane's Museum is in possession of two editions of Sancho's Letters of the late Ignatius Sancho, an African. Sir John Soane purchased the first edition of 1782 and the fifth edition of 1803. It was quite common for Soane to acquire multiple copies or editions of publications which he found particularly enjoyable, interesting or important.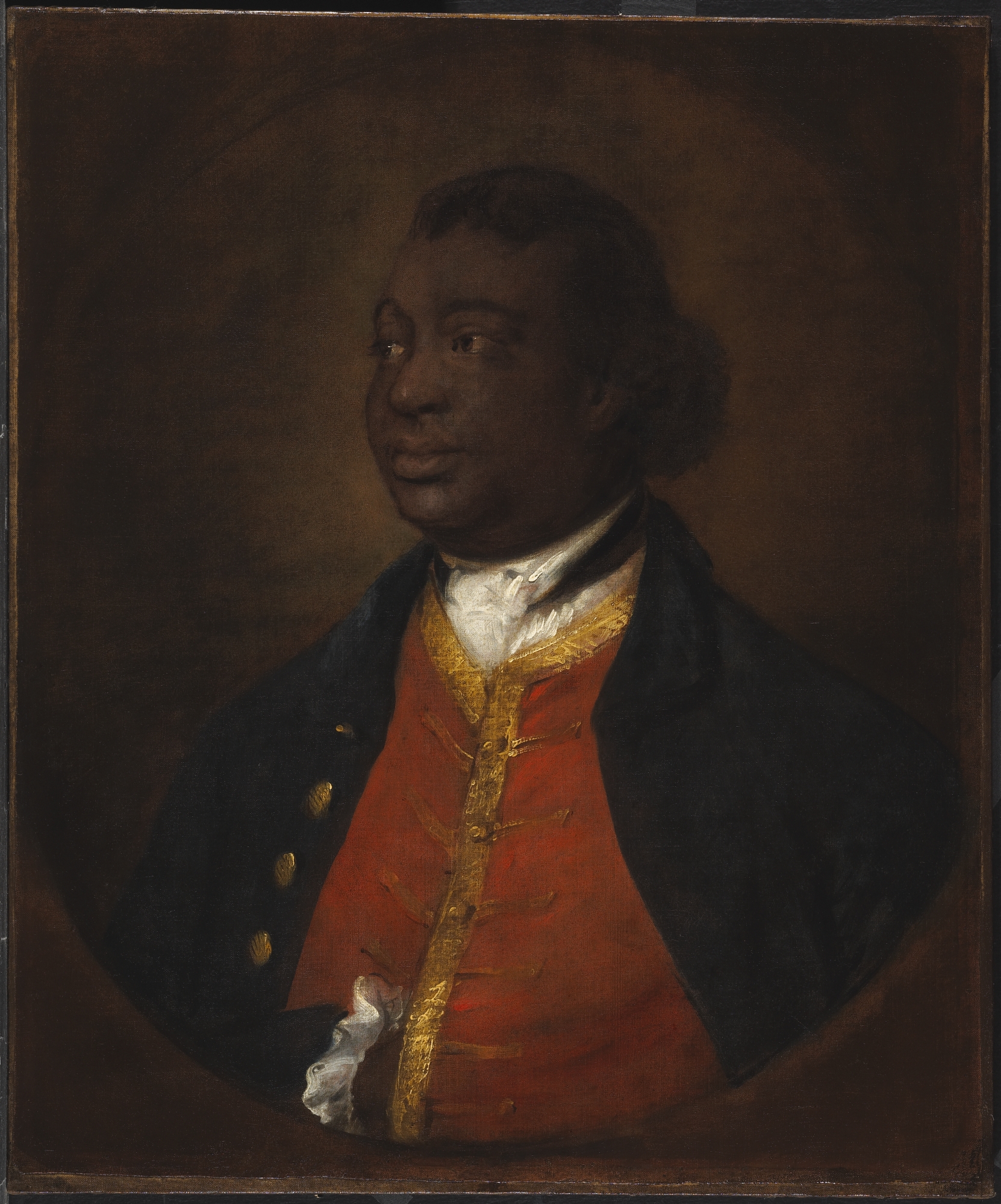 Thomas Gainsborough, Ignatius Sancho, 1768, oil on canvas, purchased 1907. ©National Gallery of Canada, Ottowa. Photo: NGC.
Sancho was a composer, a man of letters, a shopkeeper, and the first Black British person to vote. He was born in c.1729 aboard a slave ship on the Middle Passage after his parents had been forcibly enslaved. His mother died from disease shortly after their arrival in new Granada, and his father committed suicide rather than continuing to live enslaved. At the age of 2 Ignatius was transported to England. He was taken to three unmarried sisters in Greenwich who made him their servant, and surnamed him Sancho as he reminded them of Don Quixote's Squire, Sancho Panza. The sisters denied Sancho any education in the hope of keeping him obedient, but in c.1740 he met locally, and by accident, the 2nd Duke of Montagu, who admired Sancho's intelligence, befriended him and encouraged him to read. After the Duke's death in 1749, Sancho fled his enslavement, and turned to the widowed Duchess who appointed him as her butler, and two years later, upon her death, Sancho was bequeathed a year's salary and a generous annuity of £30.
During the 1750s and early 1760s, Sancho reputedly squandered much of his money on gambling and women. He attempted an acting career, but this failed due to a speech impediment. But more positive events from this period include his marriage to Ann Osborne in 1758, with whom he had 7 children, and the publication of several musical compositions. He was the first Black British person to publish in Britain.
In 1766, Sancho returned to the Montagu family, being appointed by the late Duke's son-in-law, the 1st Duke of Montagu (of the 2nd creation) as his valet – a most honoured and trusted position which brought him into contact with the upper echelons of British society. It was during this employment, in 1768, that Montagu commissioned Thomas Gainsborough to paint Sancho's portrait. Now in the National Gallery of Canada, the portrait does not show Sancho in a servant's livery, but rather in the clothes of a gentleman, including a sumptuous red and gold waistcoat, indicating his valued position within Montagu's household. However, we can also see Sancho's portliness. This, coupled with the onset of gout, meant that by 1774 he was no longer fit enough to serve Montagu, and so the Duke assisted him in opening a grocery shop at 19 Charles Street, Westminster. It was this property ownership and financial independence which qualified Sancho to vote for a Member of Parliament in 1774 and 1780. He was the first Black British person to do so.
Happily, Sancho's ill health did not prevent him from running his grocery shop, aided by his family, though he also had to fend off discrimination. In an account by Sancho's friend, William Stephenson, an artist, printer, bookseller and banker, the following anecdote is given:
We were walking through Spring-gardens-passage, when, a small distance from before us, a young Fashionable said to his companion, loud enough to be heard, "Smoke Othello!" This did not escape my Friend Sancho; who, immediately placed himself across the path, before him, exclaimed with a thundering voice, and a countenance which awed the delinquent, "Aye, Sir, such Othellos you meet with but once in a century," clapping his hand upon his goodly round paunch. "Such Iagos as you, we meet with in every dirty passage. Procced, Sir!"
William Stevenson, in John Nichols, Literary Anecdotes of the Eighteenth Century, volume 9 (1815)
The partial loss of his mobility in the 1770s apparently prompted Sancho to increase his social interactions via letter, and he wrote regularly to an array of correspondents. Sancho first gained notoriety as a man of letters when in 1775, his correspondence with the author, Laurence Sterne, was published in Sterne's Letters… wherein he encouraged Sterne in his opposition to slavery. An extract from that letter reads as follows:
Consider slavery – what it is – how bitter a draught – and how many millions are made to drink it! – Of all my favourite authors, not one has drawn a tear in favour of my miserable black brethren – excepting yourself, and the humane author Sir George Ellison. – I think you will forgive me; - I am sure you will applaud me for beseeching you to give one half hour's attention to slavery, as it is at this day practiced in our West Indies. – That subject, handled in your striking manner, would ease the yoke (perhaps) of many – but it only of one – Gracious God! – what a feast to a benevolent heart! – and, sure I am, you are an epicurean in acts of charity. – You, who are universally read, and as universally admired – you could not fail – Dear Sir, think in me you behold the uplifted hands of thousands of my brother Moors. Grief (you pathetically observe) is eloquent; - figure to yourself their attitudes; - hear their supplicating addresses! – alas! – you cannot refuse. Humanity must comply.
Sancho's Letters…, volume 1, letter XXXV, 21 July 1766
This letter was reprinted in Letters of the Late Ignatius Sancho, an African (1782) following Sancho's death in December 1780 from complications related to his gout. One of his many correspondents, Frances Crewe, compiled and edited his letters, stating her 'desire of shewing that an untutored African may possess abilities equal to an European'. The eighteenth century is noted as an age of exemplary letter writing. Sancho was conversant with the literary arts, and in his own writing, he sought to emulate the 'epistolary class' of his time. Certainly, his popularity at the time lay partly in the novelty of his race and experience – a butler-turned-grocer-turned man of letters was far from ordinary – but his letters display his eloquence, optimism, kindness, political engagement and broad-ranging knowledge.
The title page of Letters… is illustrated with a portrait of Sancho, engraved by Francesco Bartolozzi after the 1768 painting by Thomas Gainsborough. Furthermore, a short account of Sancho's life, written by Joseph Jekyll, precedes the letters, and it is from this that we learn most of his biographical information.
Sancho's Letters… met with great success. The astonishingly high number of 1,200 subscribers to the first edition were extremely varied, ranging from aristocrats and celebrities of the day to Sancho's former colleagues who continued in domestic service. Notable inclusions are the Duchess of Devonshire, Lord North, J[oshua] Reynolds, the 2nd Earl of Shelburne (Prime Minister during the year of publication) and Horace Walpole. The first edition of the publication provided Sancho's widow Ann with a hefty profit of over £500.
Though principally addressed to friends, Sancho's letters contain a variety of contents, both personal and discussing current affairs. Their variety illustrate a man of many parts, with more and more details of his life and personality available with each letter. To John Spink, a wealthy draper, banker and philanthropist, Sancho wrote about the Gordon Riots in June 1780:
In the midst of the most cruel and ridiculous confusion – I am now set down to give you a very imperfect sketch of the maddest people – that the maddest times were every plagued with. [And thereafter follows Sancho's lively account.]
Sancho's Letters…, volume 2, letter LXVII, 6 June 1780
Three days later Sancho wrote to Spink again of the damage that had been wrought by the rioters, including his description of that suffered by Lord Mansfield, the Lord Chief Justice, whom the rioters had unfairly suspected of Jacobitism:
Lord Mansfield's house in town [on Bloomsbury Square] suffered martyrdom; and his sweet box at Caen Wood [Kenwood House] escaped almost miraculously, for the mob had just arrived [having been judiciously detained by the landlord of the local Spaniards Inn, who distracted them with alcohol] and were beginning with it – when a strong detachment from the guards, and light-horse came most critically to its rescue – the library, and what is more consequence, papers and deeds of vast value [at Bloomsbury Square], were all cruelly consumed in flames.
Sancho's Letters…, volume 2, letter LXVIII, 9 June 1780
With another correspondent, John Meheux, then an aspiring young man, but later a civil servant involved in the imperial rule of India, Sancho displayed his sense of humour, even at his own expense, and the resilience with which he suffered his cripplingly painful gout:
…the best recipe for the gout, I am informed – is two or three stale Morning Posts; - reclining in easy chair – the patient must sit – and mull over them – take snuff at intervals – hem – and look wise; - I apply to you as my pharmacopolist [sic] – do not criticize my orthography – but when convenient – send me the medicine.
Sancho's Letters…, volume 1, letter XXXIX, 4 December 1776
With yet another correspondent, William Stephenson – of the memorable 'Such Iagos as you, we meet with in every dirty passage' anecdote – Sancho revealed his adoration for his wife. This is just one of many examples of Sancho expressing his profuse adoration of his wife and children:
Dame Sancho would be better if she cared less. – I am her barometer – if a sigh escapes me, it is answered by a tear in the eye; - I oft assume a gaiety to illume her dear sensibility with a smile – which twenty years ago almost bewitched me; - and mark! – after twenty years enjoyment – constitutes my highest pleasure!
Sancho's Letters…, volume 1, letter LIII, 24 October 1777
But amidst this merriment, humour and understanding, there are occasional moments within Sancho's Letters… which offer a sharp reminder of his painful background, and the sad fact that he considered himself to be an 'outsider' among his British contemporaries. To Jack Wingrave, a soldier of the East India Company, he wrote:
I am sorry to observe that the practice of your country (which as a resident I love – and for its freedoms – and for many blessings I enjoy in it – shall ever have my warmest wishes – prayers – and blessings); I say it is with reluctance, that I must observe your country's conduct has been uniformly wicked in the East-West-Indies – and even on the coast Guinea.
Sancho's Letters…, volume 2, letter I, 1778
Further to his correspondence with friends, Sancho's Letters… also includes several examples of the essays he sent for publication in The General Advertiser which he signed with the pseudonym 'Africanus'. These display thoughtful observations of his contemporary political and economic environment. The title of one such essay was:
The outline of a plan for establishing a most respectable body of Seamen, to the number of 20,000, to be ever ready for the manning a fleet upon twelve days [sic] notice.
Sancho's Letters…, Volume 1, letter XLIa, undated
As the editor Frances Crewe had hoped, Sancho's Letters… quickly established a public dialogue about the intellectual worth and abilities of people of African descent. Even the notorious American slave-owner Thomas Jefferson grudgingly noted the worthiness of Sancho's work. However, Sancho was not universally admired, and indeed, some reviews were critical:
I have seen [Sancho's] letters, and feel no hesitation to declare, there does not appear to me any mark of genius, any taste, any correctness of thought or expression throughout the whole book; it is a languid, lifeless production, and had a White Man been the author, I will venture to say, it would not have been known out of the bookseller's shop.
"Civis", The Morning Chronicle, and London Advertiser, 5 February 1788
However, many of his reviews coupled complimentary admiration for his writing with racial condescension:
Sancho was a most amiable and worthy man, with a degree of understanding far superior to the common run of Africans. His epistolary correspondence, which was extensive, has been collected together, and published for the benefit of his family, with a short account of his life. The subscription to the work does honour to humanity.
The New Annual Register, or General Repository of History, Politics, and Literature, for the Year 1782 (1783)
Irrespective of the reception that Sancho's Letters… received, their notoriety served the abolition movement heroically.
As to the moral and epistolary writing, Ignatius Sancho in his Letters that are lately published, has done honour to himself, and to Human Nature. […] And this Man, this rational and moral writer, this able assistant, and conductor of youth in liberal education, this enthusiast in the duties of Universal Benevolence and Evangelical religion, this exalted Being must be thrust down from the ranks of Men, because the tincture of his skin is black. Oh! shame, shame!
Peter Peckard, Am I not a Man and a Brother? (1788).
Sancho embodied Georgian Britain's 'ideal' man. He was well read and knowledgeable, politically engaged, industrious, eloquent, benevolent, and loving towards his family. It is no wonder that he was celebrated by his fellow British abolitionists as an example of the respect that should be afforded to Black people everywhere. His achievements were ground-breaking – the first Black British person to publish, to vote, or to receive an obituary in this country – and he must forever be remembered as a crusader in the battle for racial equality.
This essay is indebted to the work of Professor Vincent Carretta and the analysis within his 2015 edition of Letters of the Late Ignatius Sancho, an African.